Association ARES
Association ARES
Association activity
Set up events promoting the local natural heritage
and culturalriches from here and elsewhere while relying on
values of generosity and exchange,
in order to financially support direct, educational or cultural
actions in Burkina Faso or in other countries.
Activities 2023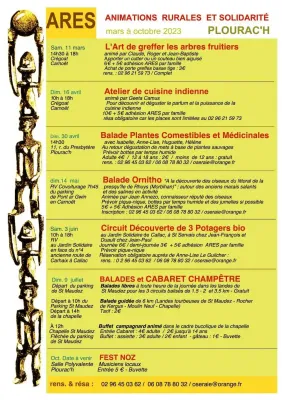 ARES office
President.
Edward Thistlethwaite
10, Rue Roch Hellou
22160 PLOURAC'H
Vice-Presidente.
Isabelle Caignard
Crégoat 22160 CARNOET
Secretary.
Caroline Mac Avoy
Balanou
22160 PLOURAC'H
Tél: 02.96.45.05.81
Courriel: caromac-avoy@wanadoo.fr
Assistant Secretary.
Hélène Legeard
Kergadoret 22160 CALANHEL
Treasurer.
Anne-Lise Le Guilcher
2 Pen Ar Hoat 22160 PLOURAC'H
Tél: 06.08.78.80.32
Courriel: oseraie@orange.fr
Assistant Treasurer.
Joëlle Boquet
Kergus 22160 PLOURAC'H
Last edited: Tue 21 march 2023